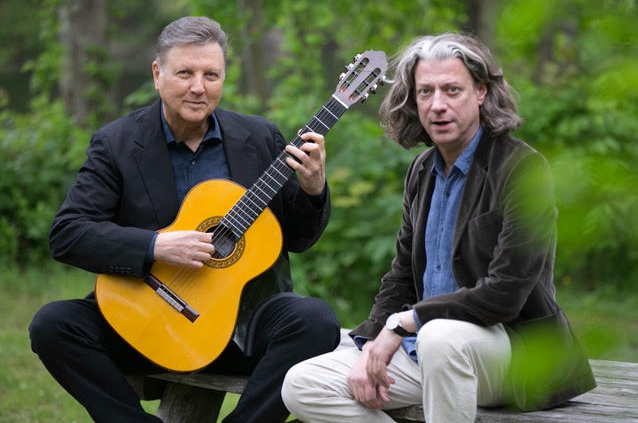 Ken Hatfield & Eric Hoffman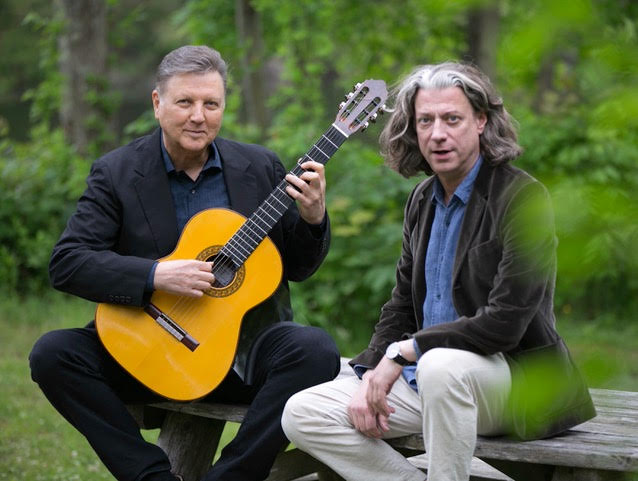 Thursday November 23, 2023 6pm
Bio
Song stylist and trombonist Eric Hoffman and award-winning composer and guitarist Ken
Hatfield have performed together for over a decade. They will perform songs from their
extensive repertoire, including music from their 2023 release, Stirrings Still, which deftly
balances introspective originals with fresh takes on standards, both familiar and unexpected.
Ken Hatfield is a leading proponent of jazz played on the classical guitar. Described as "a
veritable Picasso of the jazz guitar world" (20 th Century Guitar), and "one of the most skilled,
creative, and original guitarist/composers currently recording" (Acoustic Guitar), Hatfield is
known for his formidable fingerstyle technique and original compositional voice that draws on
influences as diverse as jazz, blues, classical, Brazilian, and Appalachian music. His important
contributions as a composer have earned him wide recognition, including the prestigious ASCAP
Foundation Jazz Vanguard Award for "innovative and distinctive music that is charting new
directions in jazz" (2006).
Arthur Circle Music has released ten albums with Ken performing his original works, and six
books of his compositions. Mel Bay published his instructional book Jazz and the Classical
Guitar: Theory and Application and features his works in Contemporary Guitar Composers of the
Americas and Master Anthology of Jazz Guitar Solos, Vol. III. Ken's compositions and writings
have also appeared in numerous jazz and guitar publications, including DownBeat, Acoustic
Guitar, and Just Jazz Guitar.
In addition to composing for ensembles he leads, his compositional experience includes
commissioned ballet scores for Judith Jamison, The Washington Ballet Company, and the
Maurice Béjart Ballet Company, and scores for television and film, including Eugene Richards'
award-winning documentary but, the day came. Ken has performed in a variety of venues
ranging from the JVC Jazz Festival, the Smithsonian Institution and Carnegie Hall to intimate jazz
clubs such as Birdland and 55 Bar. He has performed and/or recorded with a diverse list of
international artists, including Charlie Byrd, Jack McDuff, Jimmy McGriff, Chico Hamilton,
Melissa Manchester, Stephanie Mills, Pat Benatar, Charles Aznavour, Bob Cranshaw, Grady
Tate, Marcus Miller, João Donato, Ben E. King, Eddie Kendricks, Marlena Shaw, Z.Z. Hill, and
Toni Braxton.
Eric Hoffman is a distinctive song stylist with an impressive vocal range. Whether employing an
intimate whisper or his full-voice baritone, he is a master of many styles, convincingly
interpreting genres from jazz to Broadway and everything in between. From Flint, Michigan,
and an Interlochen Arts Academy graduate, Hoffman comes from a musical family. At an early
age he began singing with his grandparents in their church choir. At age ten he took up the
Lowrey 88 Organ before moving on to the trombone. He was a featured singer with big bands
on various cruise lines, working with performers such as Jack Jones, The Spinners, Vic Damone,
and Steve Allen. After moving to New York, Hoffman became a trombonist and featured male
vocalist with Supersound, former Dizzy Gillespie drummer Charli Persip's big band, appearing
on Persip's recording Intrinsic Evolution. Eric is a protégé of the legendary Marilyn Maye, who
directed his New York cabaret debut, "A New Nightclub Act," in 2017. He has performed in a
variety of contexts and ensembles with guitarist Ken Hatfield for the past decade, including
their 2023 duo release Stirrings Still. Eric's previous albums include Introducing Eric Hoffman
with Oliver Von Essen and Get Together.@winniesjazzbar
https://winniesnyc.com/wp-content/uploads/2023/11/Hatfield-2.jpeg
481
638
[email protected]
https://winniesnyc.com/wp-content/uploads/2019/03/winnies-logo.png
[email protected]
2023-11-14 01:38:05
2023-11-14 12:13:35
Ken Hatfield & Eric Hoffman